We know that it is important that General Contractors have extensive information about prospective projects so they can plan accordingly for them. By clicking the View Project button on the main General Project page, General Contractors can then select a particular project and then review the pertinent information. You may only view projects that have been assigned to you by Bid Registrars.




You can only view all of the projects in your project list. To view them, simply click on the Project title and you will be brought to the view project page.



The remaining time is displayed here. These time calculations are based on the time zone in which the project resides.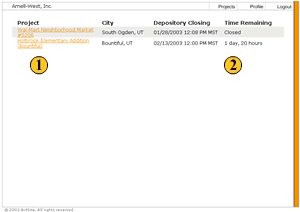 On the view project page, you can review all of the information that is available for the project, including closing time, location, and section info. To view the Bid Registrar's company information, simply click the company's title.



Also on this page you will be able to input any outside bids that you have acquired from your own SubContractors. To do this, simply click the "Outside Bids" button on this page. To learn more about outside bids, please click on the outside bids link on the help index to the left.



When a project closes, you will be able to retrieve the bids that were placed by SubContractors to you. The Bid Registrar will be notified that you have retrieved these bids.